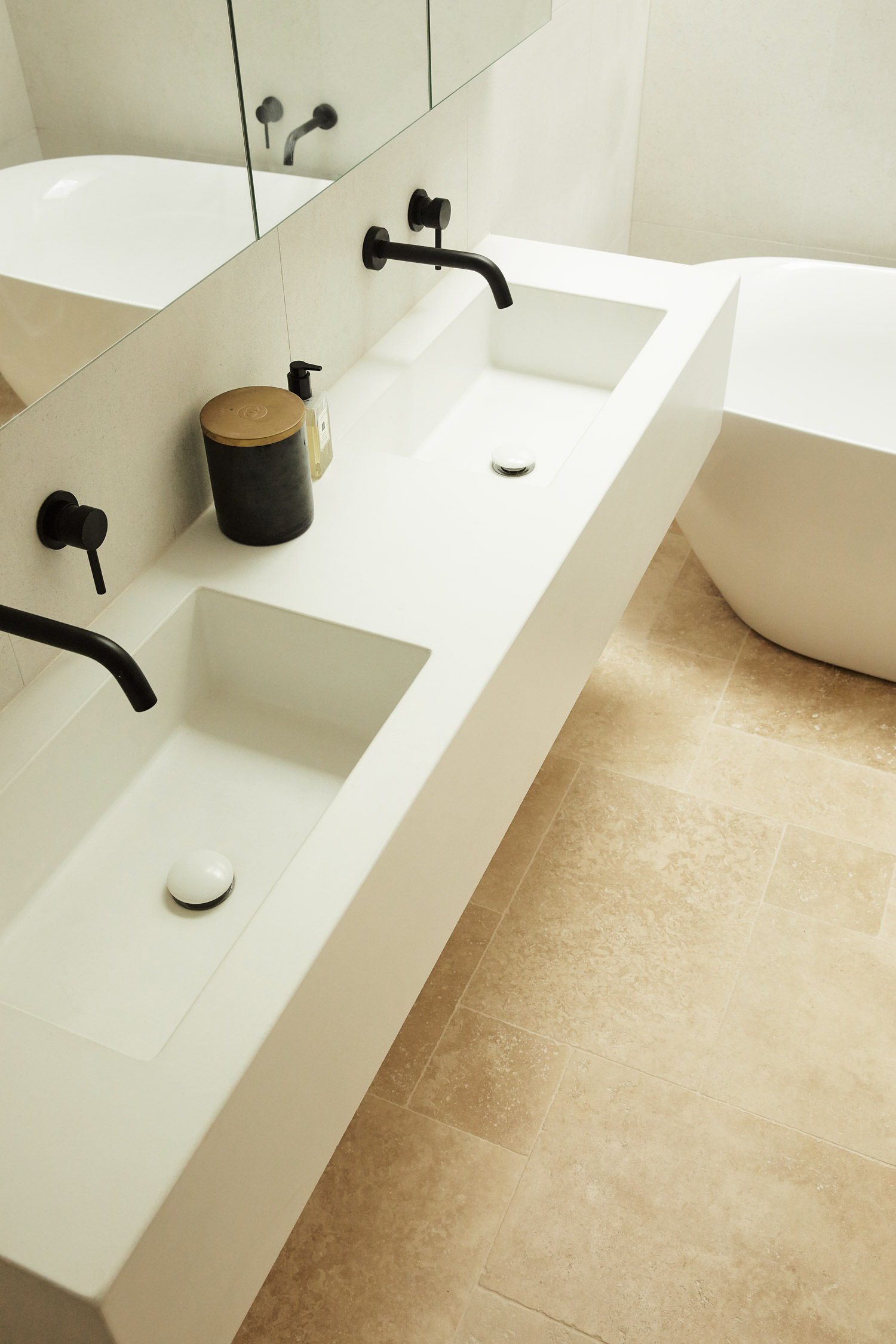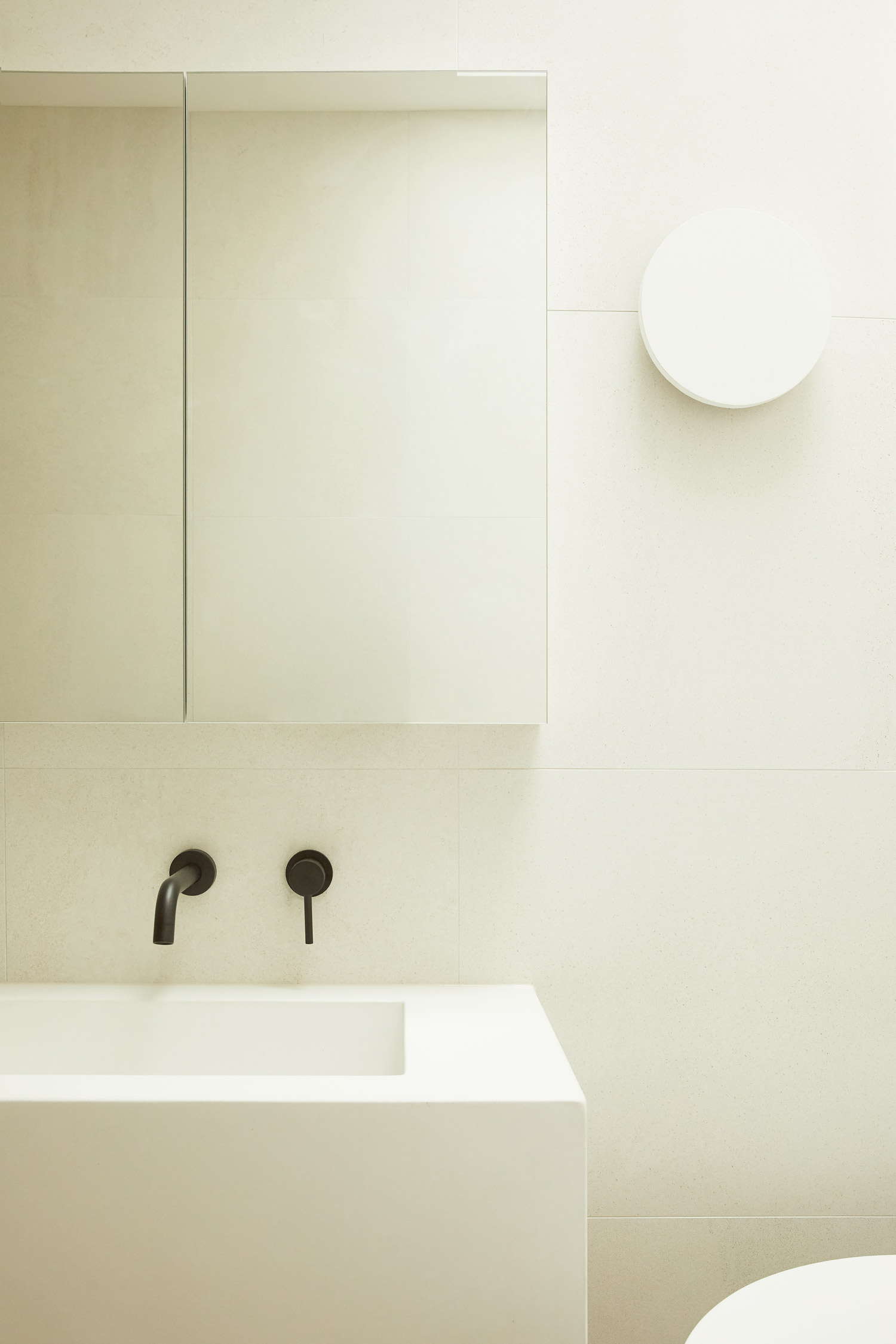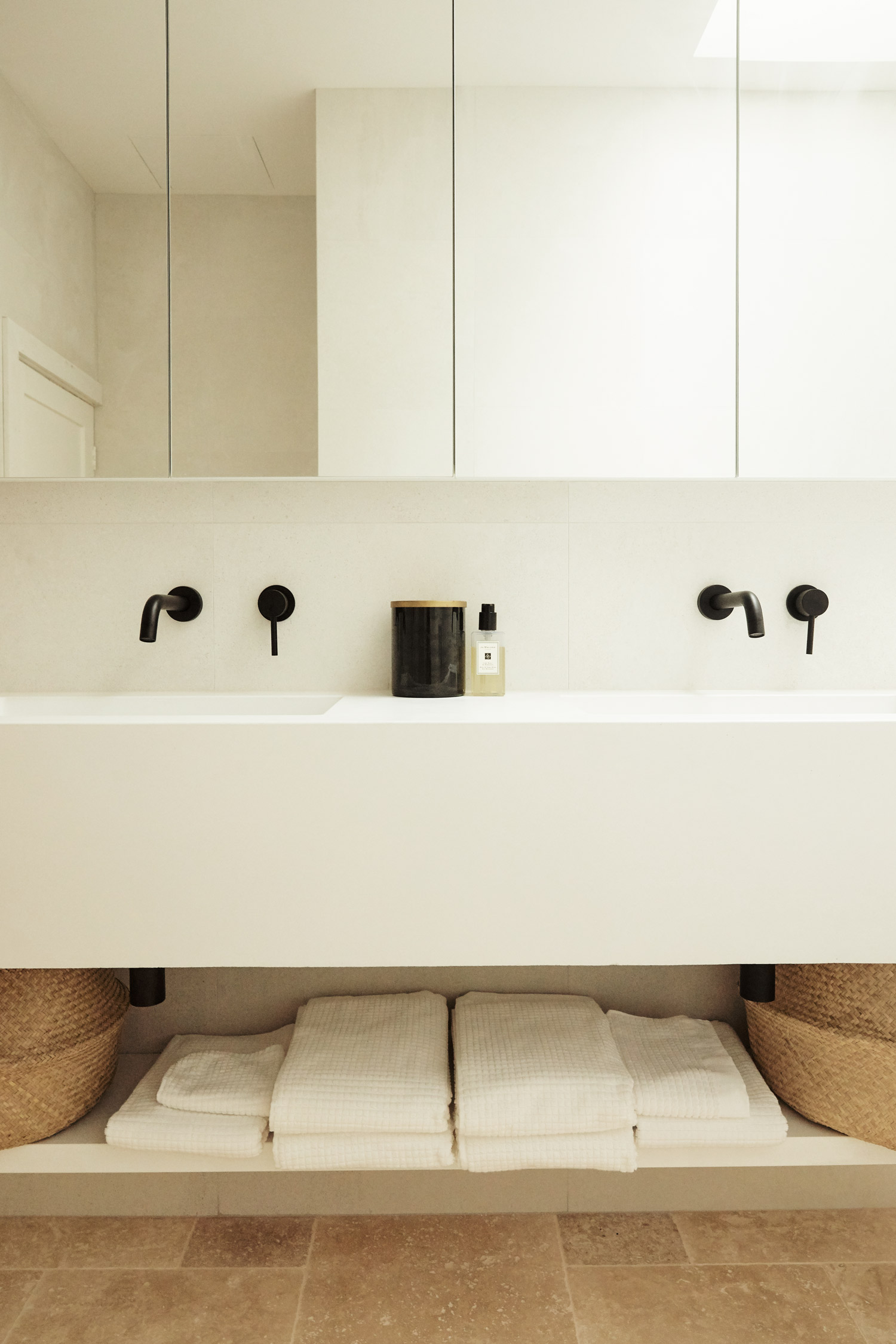 I've never done a reno before, but this will be the first of many as my husband and I slowly move through our 1930's bungalow style home in Sydney.

We started with our bathrooms, turning two small bathrooms that backed onto each other into one main family bathroom, and turning our sunroom , that used to be my home office, into our ensuite.
We had a few structural changes that meant a slow and steady approach, and in the end it took 3 months to complete, but we're just so happy with the result and its been so rewarding to be part of every decision and see it all come to life.
When approaching the design of the space and the overall look and feel I utilised Pinterest and Instagram saves to the max, creating an edit of the style of bathrooms I liked the most, finding commonalities between them and using these to discuss through ideas with my husband.
I really like light and bright bathrooms, minimal but with warmth, a functional flow and layout, matte black tapware and wall hung floating vanities with inset sinks. I ruled out draw storage early on, as I couldn't find any that I liked and custom joinery is quite expensive, so instead decided to incorporate storage just within the mirrors as well as a floating shelf that sat under the sinks.
After a lot of research into inset sinks we decided to enlist the help of Concrete Nation, a Gold Coast company that creates sinks and basins, and all things bathroom and kitchen out of concrete and can also create custom designs in a number of different colour ways. Obviously white concrete was my pick, and I am SO in love with them. The concrete finish is soft and smooth, and you wouldn't even know they were concrete on first glance.

I really wanted these to be the statement pieces of our bathrooms and they are so seamless and beautiful. For our ensuite I just went with a large single sink design, and then in the main we did a double sink, but with the same depth dimension. I also found some matte white waste plugs that perfectly match. You know you're in the thick of a renovation when you get excited about plugs.
Something that was a bit more painful was our french stucco render on the walls. I fell in love with this seamless limestone render finish rather than tiles, like the traditional french Tadelakt that has natural bumps and areas of shine. There are a lot of options on the market to create this look, venetian plaster, micro cement ect. We ended up with a French Stucco as a local supplier was able to deliver the results, but unfortunately as overall this type of product and finish is still quite new in Australia it wasn't a seamless experience, and its also incredibly expensive. The first round of trying to execute it ended up with it covered in hairline cracks, and the 2nd, although 99% better, still has a few little quirks. You also can't use it in the shower, so we tiled this area, and after the stress of doing it in the ensuite first, we decided to tile the entire main bathroom instead.
Overall, as beautiful as it is, I love it in our smaller bathroom space, but probably can't recommend it. We do however love our tile choice!
We landed on the wall tiles because we were trying to match them to the stucco, so from a distance they have a similar vibe. What we really love though are our natural travertine floor tiles, set in a french pattern. I wanted to feel on holidays when i'm in my bathroom, and these definitely give that feel to the space. We went with an unfilled option, so they're nice and matte each unique, nothing too perfect.
My other big love in our bathrooms is the abundance of natural light. This was easy to create in our ensuite as it was previously a sunroom and had lots and lots of light. But for our main bathroom which is in the darkest part of the house we used a skylight to create light, and it is seriously life changing.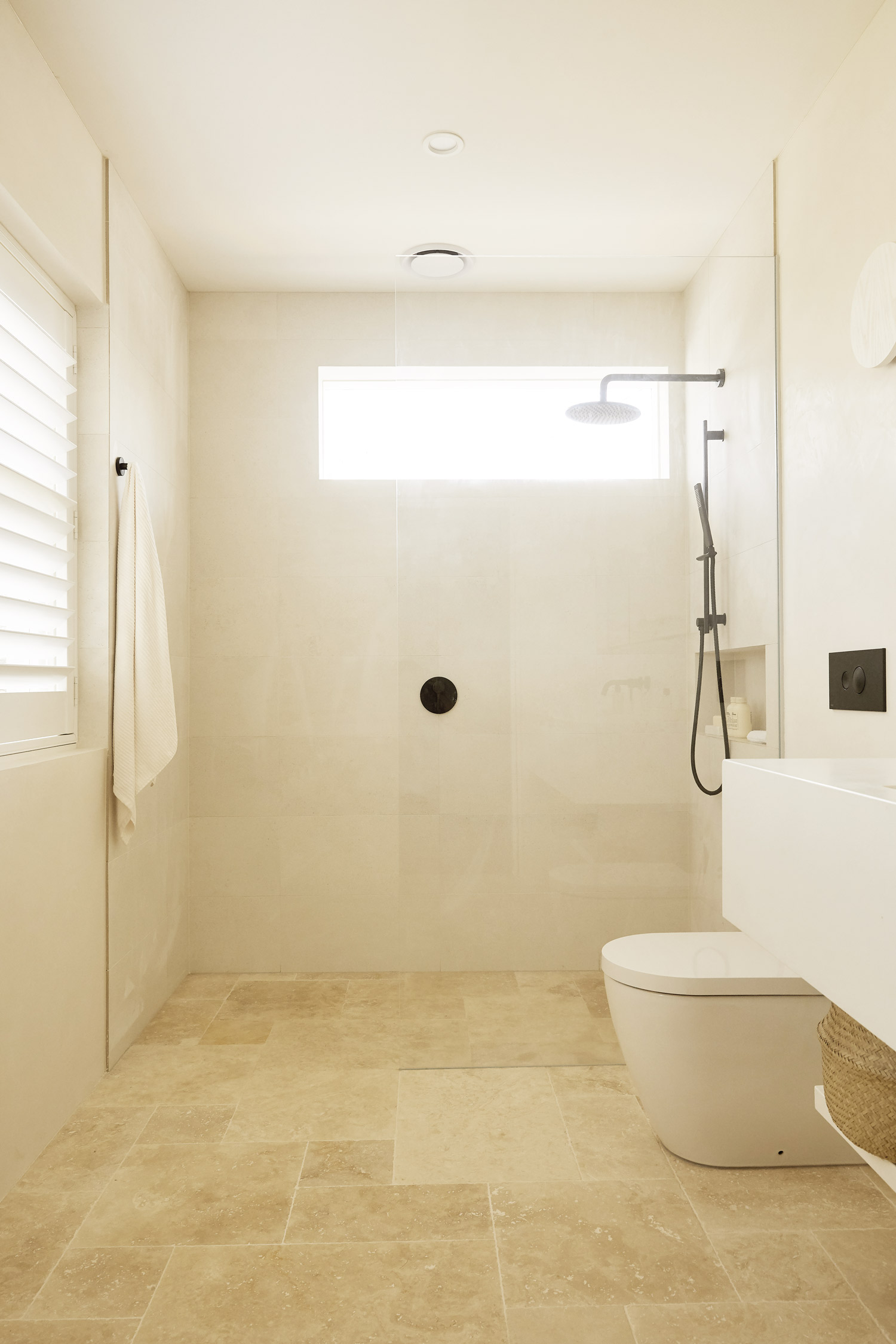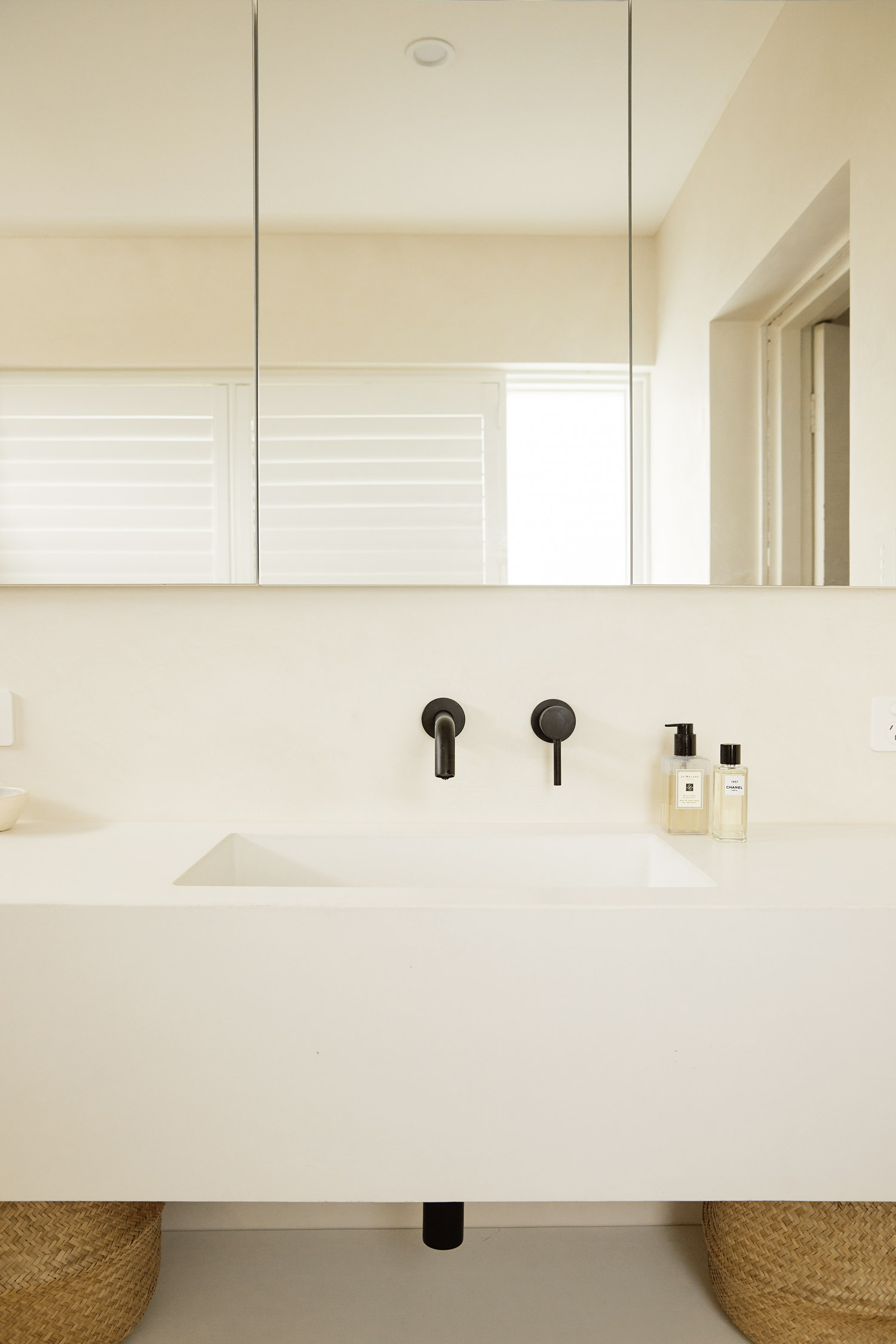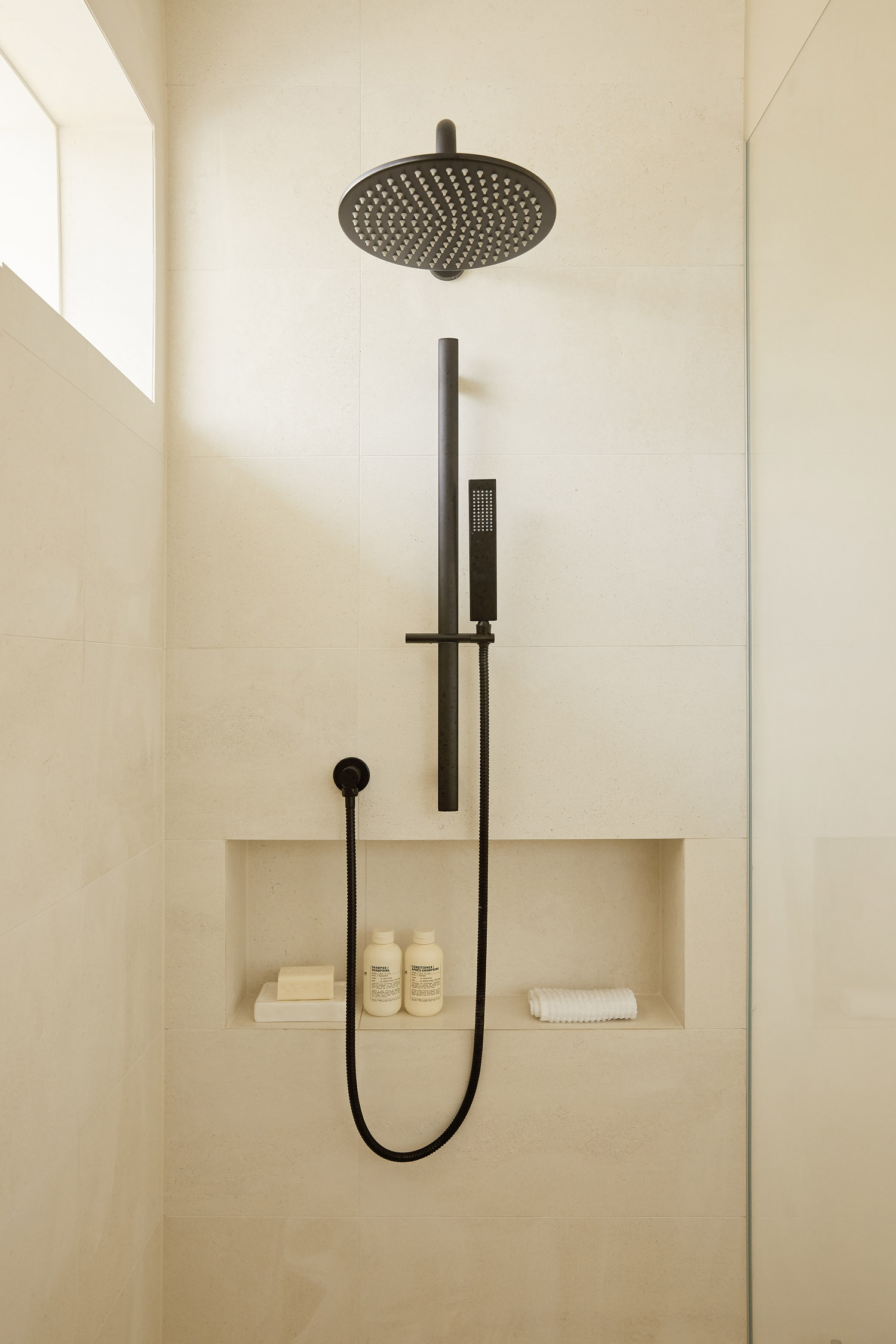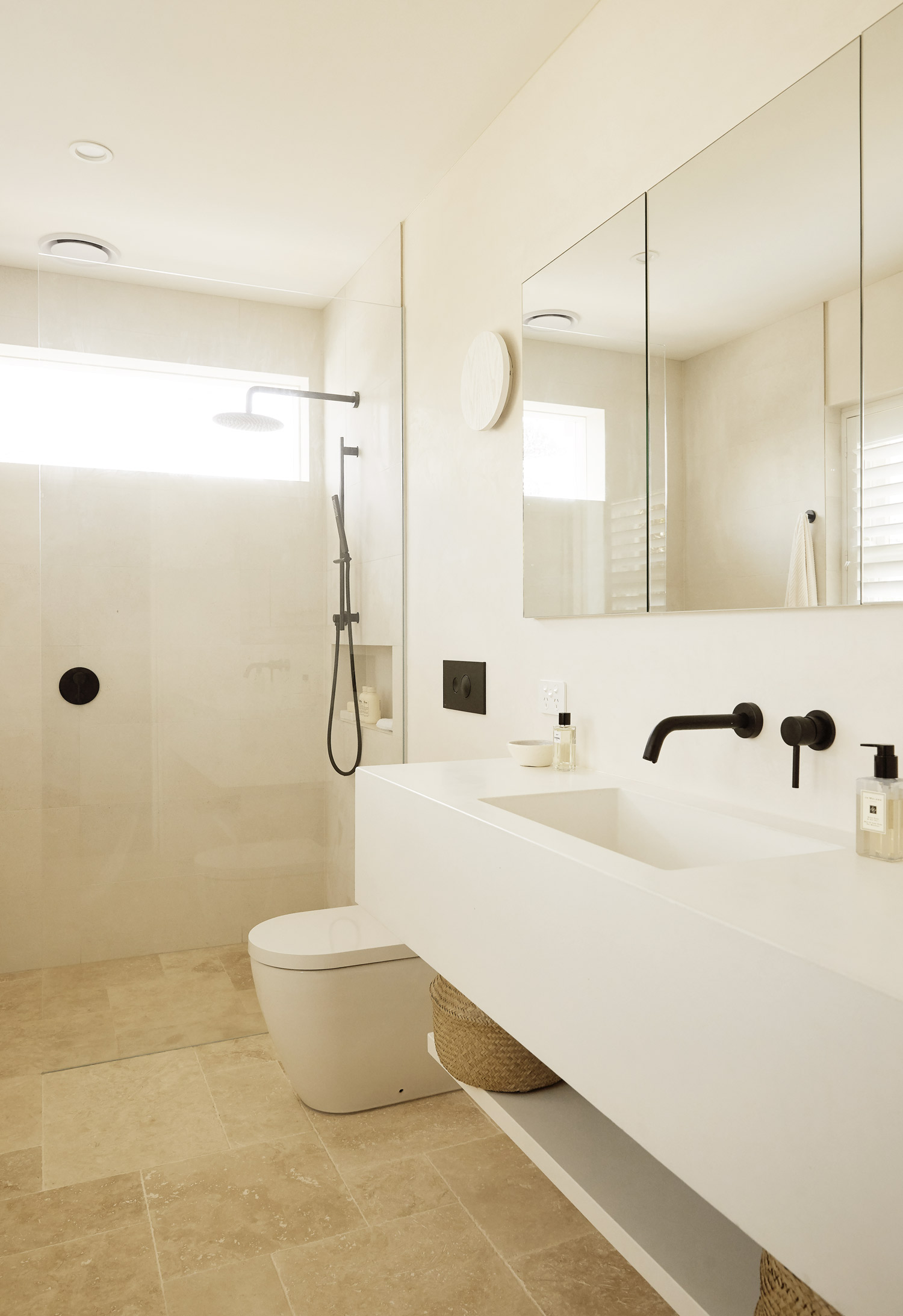 Product Details

Floating sinks: Concrete Nation
Floor Tiles: Barefoot Living Nordic Cream Travertine
Wall Tiles: Barefoot living Felt Sand tiles
Ensuite Walls: French Stucco
Wall Lights: Beacon Lighting LEDlux disk in white
Bathtub: Reece Kado Lux Oval Freestanding Bath
Tapware: ABI Interiors
Mirrors: ADP shaving cabinet mirrors

Photography by Ana Suntay-Tanedo