Pictured: Dior DiorSkin Nude Shimmer Instant Illuminating Powder in 02 Amber, Laura Mercier Face Illuminator in Indiscretion, Tom Ford Shade & Illuminate in 02 Intensity Two, Bobbi Brown Shimmer Brick in Nectar, Stila Stay All Day Bronzer
If you're one of the (what feels like) few that haven't jetted off to the northern hemisphere to escape the Australian winter, then by now i'm sure you're really feeling the affects on your skin.
Not just the texture (right now i've just slathered on some Elizabeth Arden 8 hour cream to my lips and face as it felt like it was literally shrivelling up) but the colour is what really gets to me. Dull is NOT what I want my face to reflect. It could be my own fault, as I'm completely overdue for a faux tan application, but care factor is rather low, especially since the only body parts on show at the moment are my hands, tops of feet and the neck up.
This is when your bronzers and illuminators are your best friends. Definitely not just for the summer months, they have a crucial role to play during winter where you literally have to fake that glow.
You may not know, but I have recently moved into an office space with Eleanor from Gritty Pretty, who is the real deal when it comes down to beauty journalism. I now have access to an expert in all things beauty and skincare when I have a question or get confused about different products, so prepare to have some of this technical knowhow rub off into Harper and Harley content. Eleanor kindly lent her product styling skills for this post, while I played photographer, so thank you El!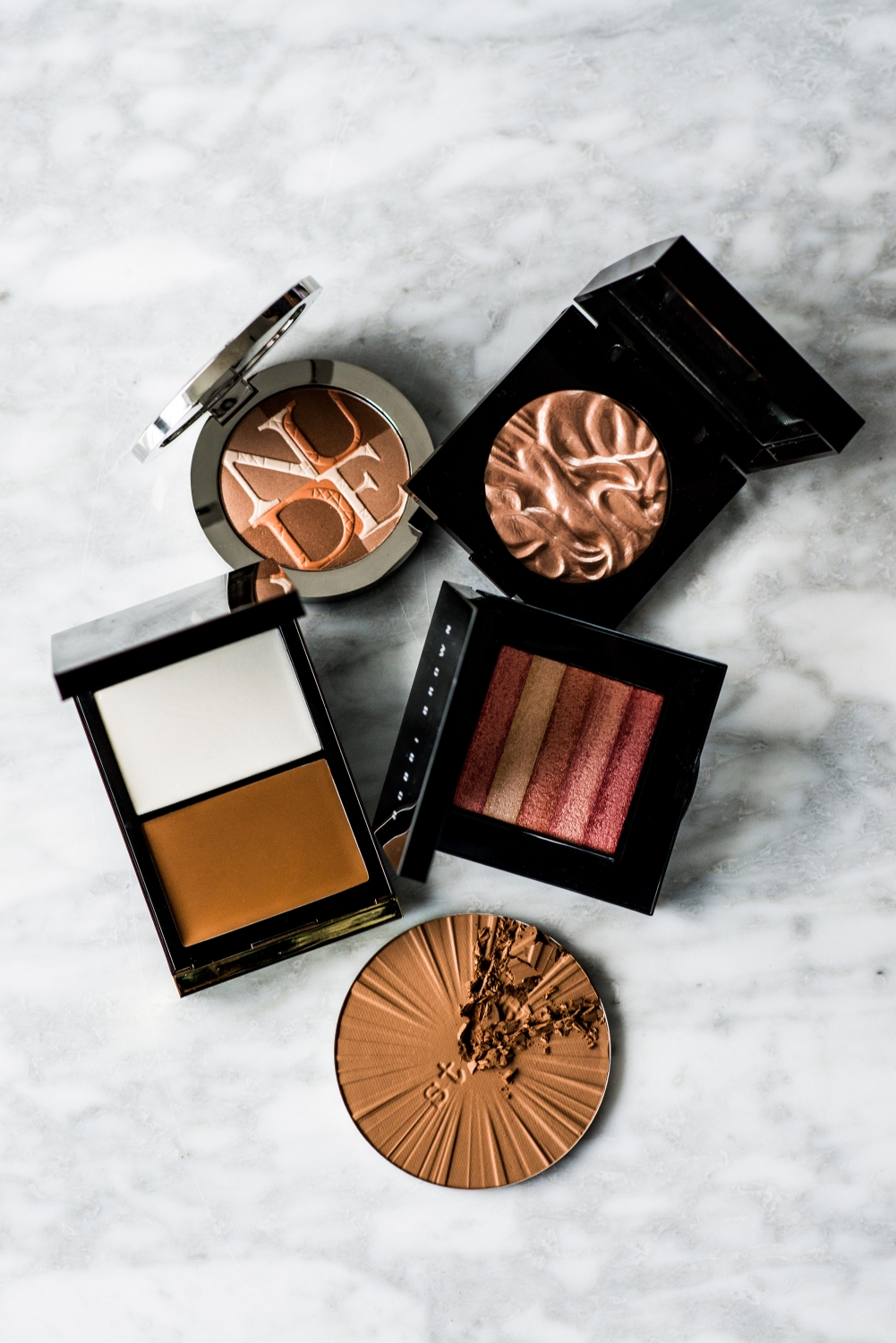 – Your Fake Glow Checklist –
Illuminating Primer
I was one of those people that if a product read illuminator I thought they were all the same. Nope! I ask Eleanor to give me the 411 and an illuminating primer is just that, a primer! Put this one on before your foundation and it will create a beautiful subtle glow from underneath. I've created a face map below for reference – please note this doesn't reflect how much product to apply, just where to apply it! Apply your Illuminating primer to areas D, E, F, G and H.
This is perfect if you want to trick everyone into thinking your skin has glow factor, as they won't be able to tell where the glow is coming from as the foundation will applied be over the top.
Light Reflecting Blush
A blush with a hint of shimmer is exactly what you need when you're lacking glow factor. A little colour to the cheeks will make you look alive again. The Bobbi Brown Shimmer Brick in Nectar combines 5 different shades to create a perfect light refecting blush.
Bronzer – Matte Powder
Its important to balance out which parts of your face are shimmering and which areas are matte. Number one rule: don't make your whole face glow as it will defeat the purpose of applying illuminator to those areas mentioned above. Areas A, B and C are the areas you want to 'sink' and make darker, and areas D, E, F, G and H are the areas you want to push forward have the light hit, with the help of shimmering illuminators.
Stila Stay All Day Bronzer is a great matte bronzer that
Contour Kit
Yes, Sorry, but this trend isn't going anywhere. Forget everything you've seen about contouring, especially if someone is trying to teach you how to recreate a Kardashian look, lets just talk about it as if you're trying to look like a real person, but with killer cheekbones.
I like using a cream bronzer like this one from Tom Ford. It goes on really nicely just after your foundation when the skin is still dewy and you can blend the cream naturally into the skin. Looking again at the face map below, apply your cream bronzer to areas A, B and C. Again this is NOT how thick your should be applying the product but where you should be applying it. Remember you can always add, but its hard to take away so go easy girlfriend! DONT FORGET TO BLEND. Pretty please don't forget to blend That goes for under your jaw line too…
Body Bronzer
Ok, so even though you may be covered head to toe with a coat going from A to B, once you get to destination B there is a chance (again if you're like me and dress for spring when you're still in winter) that you'll have your arms out when you take off your coat. Rather than revealing pale, vitamin D lacking limbs, a body bronzing illuminator is going to quickly turn this situation around.
I don't like anything fussy though, and I especially don't want it rubbing off onto my clothes. The Charlotte Tilbury Super Model Body Roll On is definitely the answer.
Illuminator
Different from the illuminating primer, this one goes on top of your foundation. Apply it to areas D, E, F, G and H.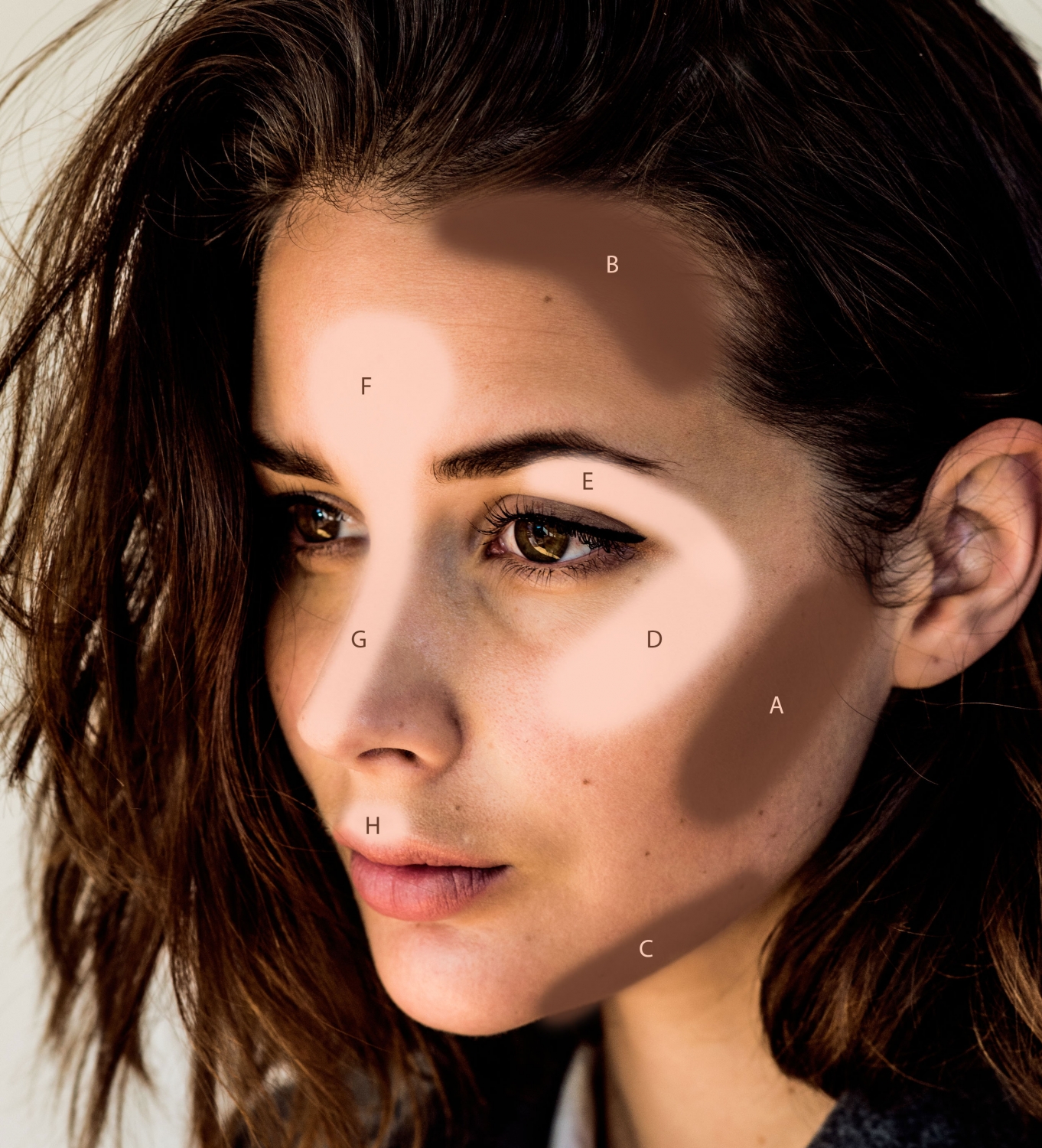 Tune into Fashion Bloggers Season 2, Episode 7 tonight (9:30pm on E!) to see all the behind the scenes action that went into creating these images. If you're a beauty addict, then a glimpse into the Gritty Pretty beauty cabinet is NOT one to miss!
Dont have Foxtel? thats ok, you can watch episodes a week after they air on Eonline.com