Considering buying a leather jacket? This investment purchase needs some thought. Here are my tips on what to look for when buying this classic item.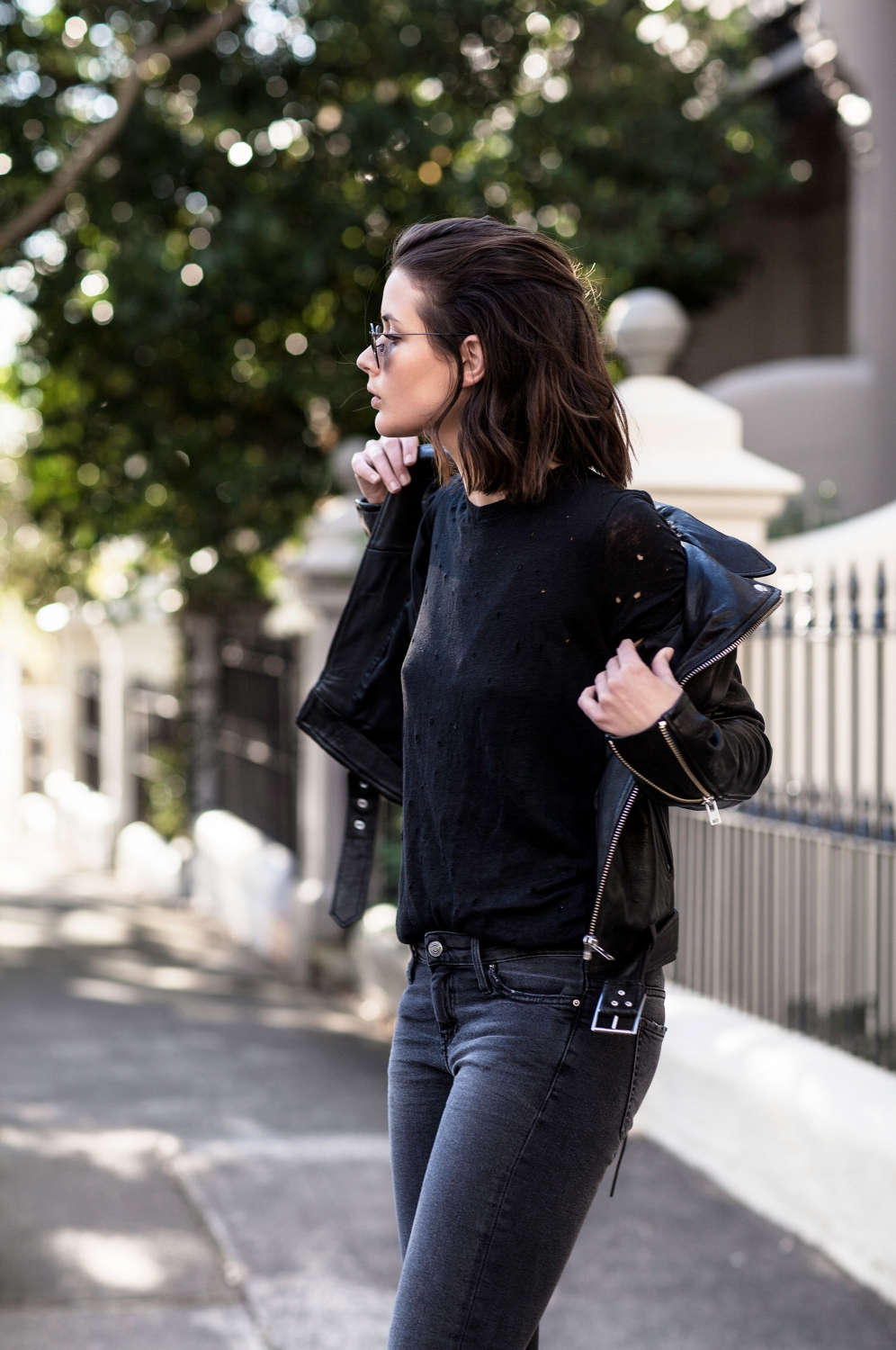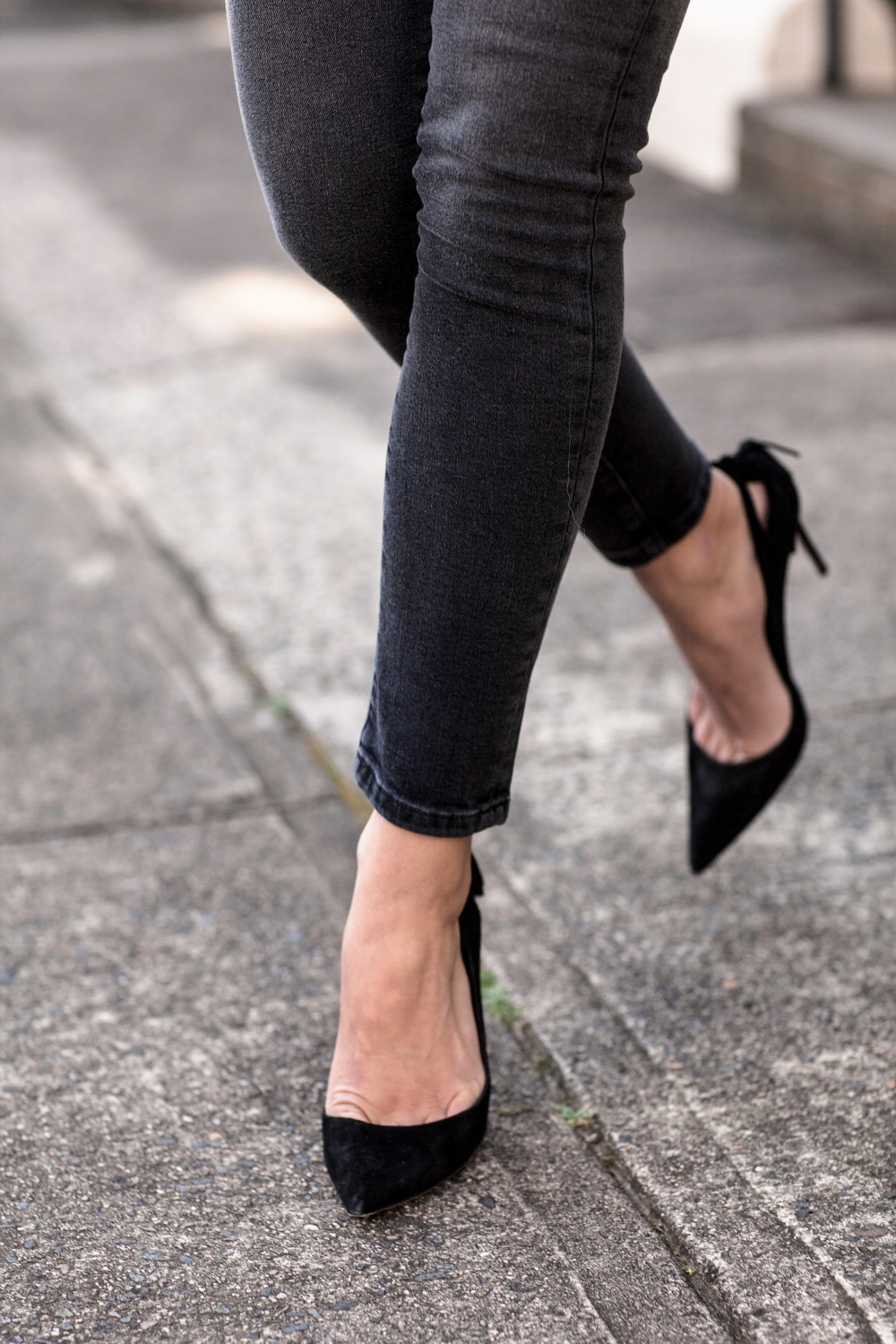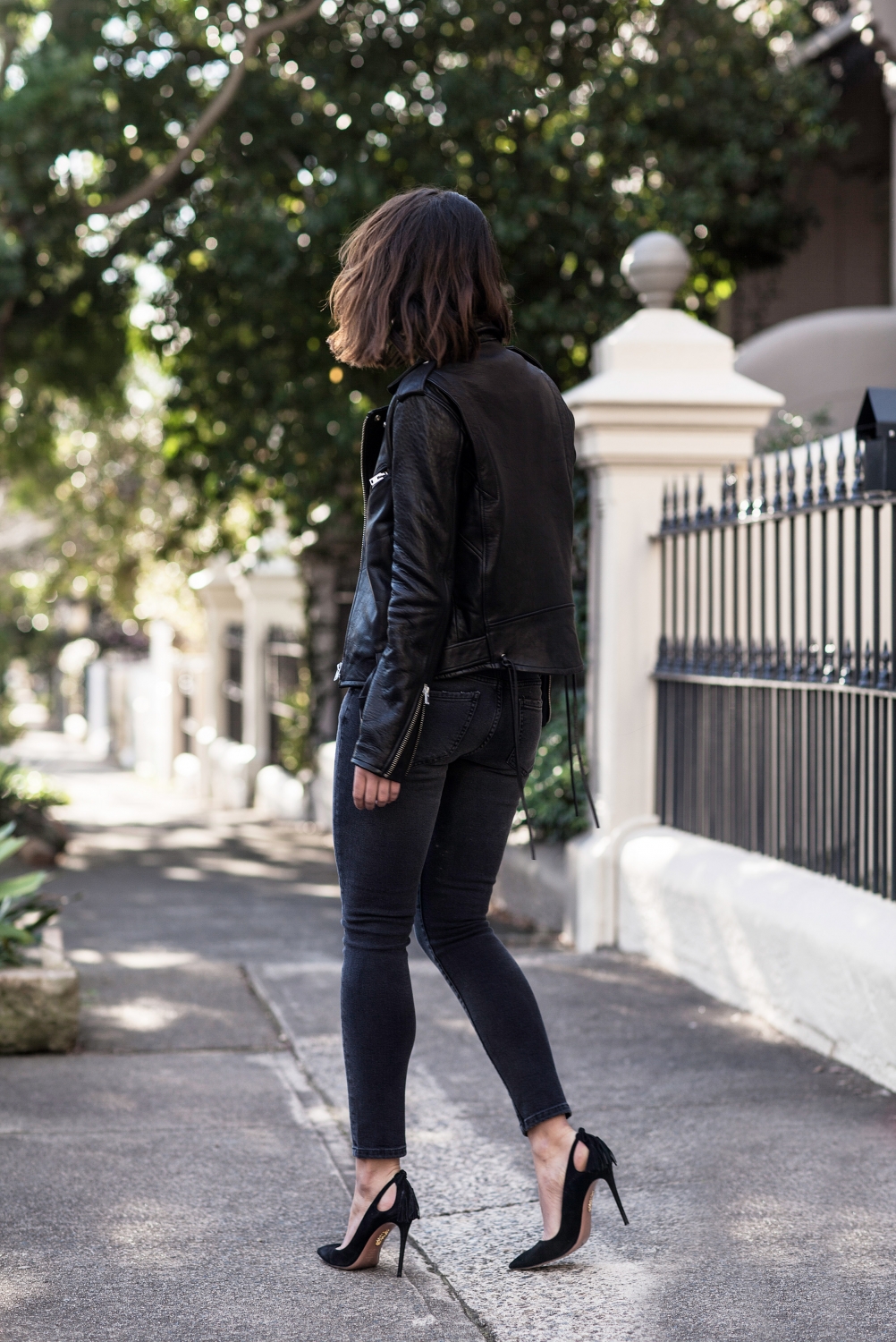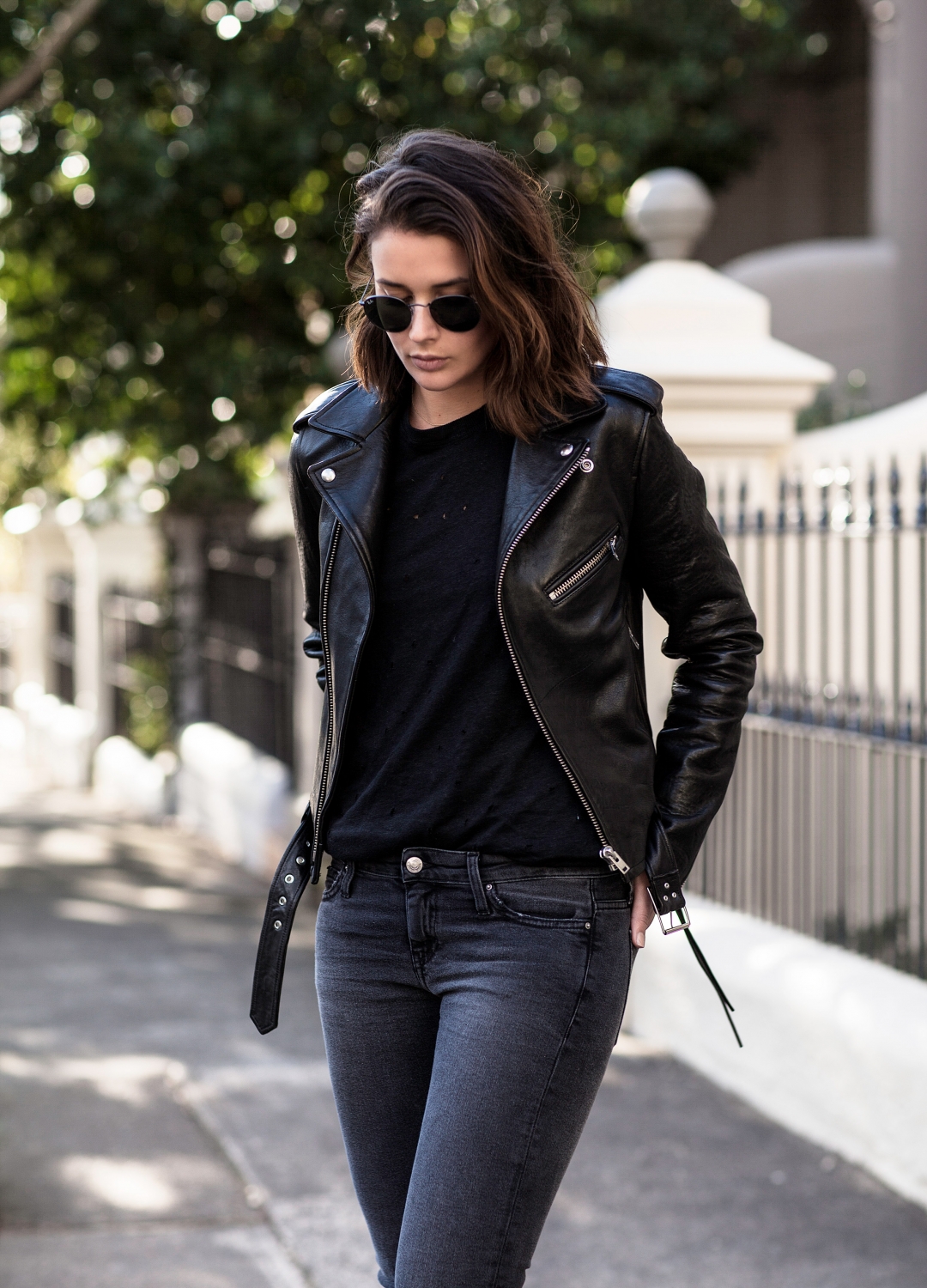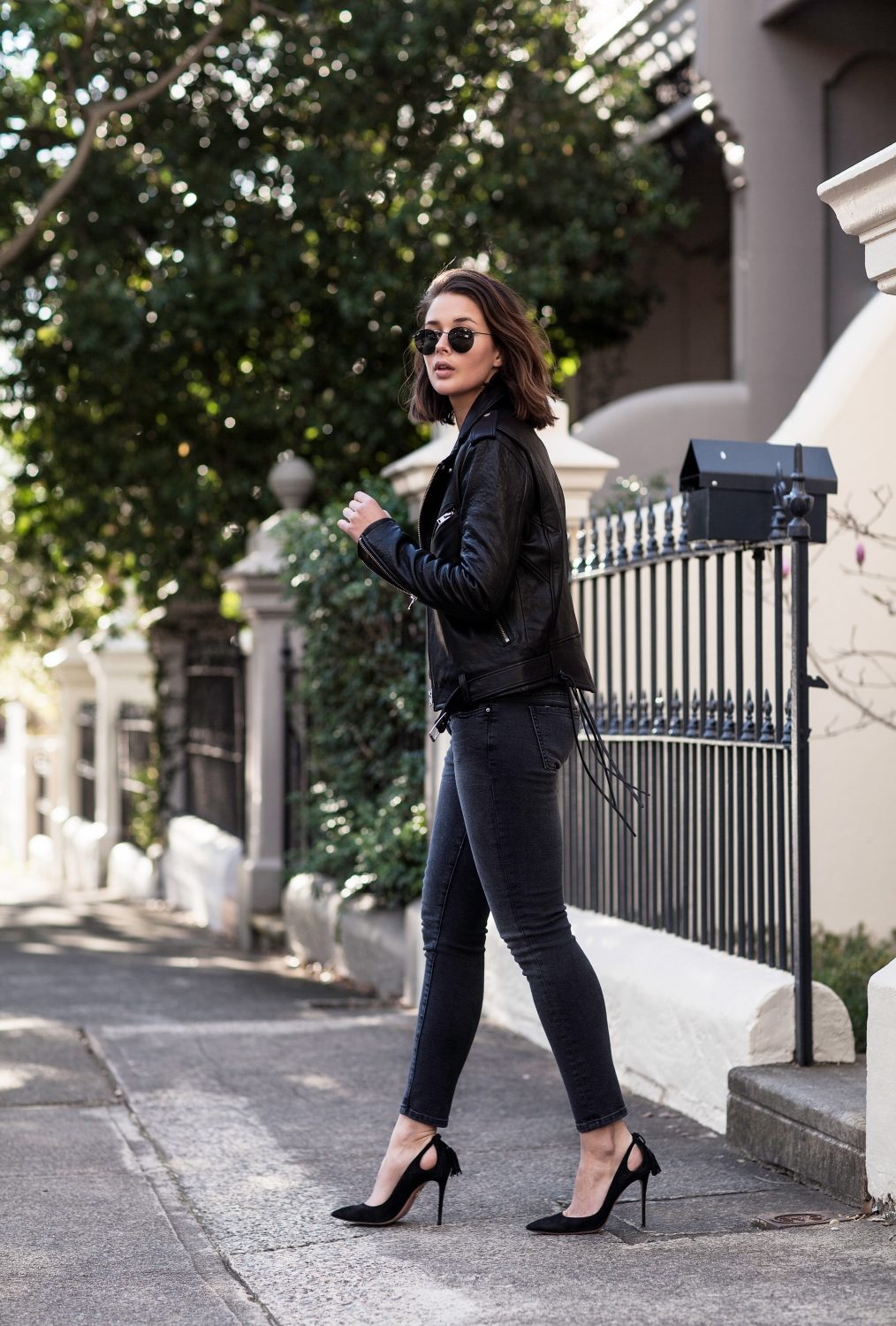 1. Leather
Taking note of the type of leather is really important as this can vary dramatically. Some are quite thick, thin, hard, super soft, shiny, suede or have a texture and all of these details play a part in how it will sits, wear and ultimately its versatility. Going for a leather that has a subtle texture means that the jacket is going to wear well with time. Leather naturally creases, softens, gets scratched and fade, but the right leather will take all of this in its stride to create the character of the jacket.
2. Length
Deciding on whether to buy a cropped jacket or one that ends on the hips can be tricky. With experience, I can argue you need one of both, but if you are going to pick just one it really does depend on your body shape and what you want to mainly style it with. If you're buying a leather jacket to work with dresses then a cropped jacket is really flattering, but if you want to wear them with jeans then the longer length works best.
3. Hardware
Make sure to check the colour of the hardware. A mistake here could cause a perfect leather jacket to be left sitting in the wardrobe because it doesn't work with the rest of your accessories. If you find a neutral hardware, ie black. Then you've found the holy grail. Buy it now!
4. Shoulder Alignment
The shoulders should line up perfectly and create structure. Unless you're going for an oversized boyfriend style, in which case I'm presuming you've already ticked off finding the perfect leather jacket, then make sure the shoulders don't sit too wide. If they sit too narrow then you need to up a size a because its likely you wont be able to move your arms.
5. Lapel/collar
Brands will constantly change up details on leather jackets to differentiate their designs, but nothing beats a classic lapel. Avoid anything too trendy, like a drape, shearling or fur (unless it's removable) or the no collar collar unless you want a more mature style.
6. Lining
Always check to make sure it's lined. The lining should also be nondescript and not compete or clash with the jacket itself. I hate when brands insert a bright colourful lining on a perfect black jacket. WHY?
7. Back
Some back detailing can have folds that make it more biker styled while others can taper in creating a more polished shape. Neither is right or wrong, but always a good idea to check out the back and make sure it's in line with what you want.
8. Detailing
It's all in the details. Too many and it will date, too little and it borders on boring. Zippers, stitching and hardware can make or break your jacket choice. Just make sure it's classic and flattering. I made an error of buying a jacket with padding on the top arms that added extra bulk and made me look like a rugby player… not ideal.
Wearing: IRO leather jacket, IRO t-shirt and jeans, Aquazzura pumps, Ray-Ban sunglasess (similar)
IRO has opened its first store in Sydney's Double Bay. Get down there quick smart if you're in love with this jacket as much as I am. ticks every box.
Follow Harper & Harley on Bloglovin'
Photos by Ana-Suntay Tanedo